TUSCANY: MOVING FROM MONTEPULCIANO TO THE VAL D'ORCIA VALLEY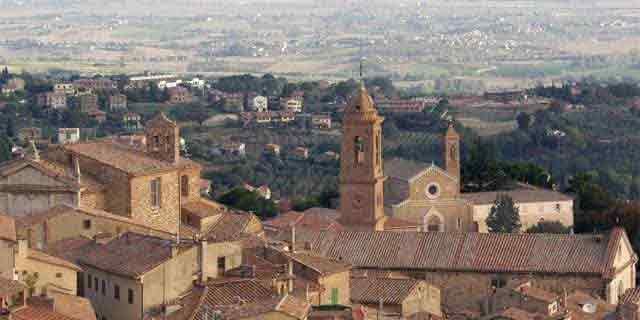 Crossing south Tuscany, from Montepulciano to the Sant'Antimo Abbey through the spectacular Val d'Orcia Valley
Itinerary:
Montepulciano, Pienza, San Quirico d'Orcia, Montalcino
Tuscany: moving from Montepulciano to the Val d'Orcia Valley
Montepulciano is one of the historical areas included in the province of Siena. It is a Medieval Italian town encircled by fortified walls and located in one of the most evocative areas of Tuscany.

Montepulciano rises along a narrow limestone ridge 605 meters above sea level, offering visitors a scenic view of the surrounding area, including Chiusi and Trasimeno Lake, Valdichiana, and Val d'Orcia Valley scattered with many picturesque villages.

But, Montepulciano is not just a vantage point, above all, it is a splendid Medieval town, a real pearl of history, art, and architecture, and which has preserved its oldest traditions, buildings, and unique charm over the years. It is mainly famous for its magnificent Renaissance-style palaces and many churches. The most outstanding ones are:
- the Cathedral Saint Mary of the Assumption, originally built in the 17th century, with an impressive bell tower. The square it is located in is considered to be one of the most beautiful squares in Italy.
- the Renaissance-style Church of San Biagio, built in the 16th century by Antonio da Sangallo il Vecchio is one of the Tuscan masterpieces of that century.
- the Baroque style Church of Santa Lucia with a beautiful travertine façade.

Montepulciano is also famous for its "Vino Nobile", one of Tuscany's most appreciated wines in the world.

Montepulciano is the perfect starting point for visiting Val d'Orcia Valley, where you can find the real essence of Tuscany: hills trimmed by cypress trees, vineyards, and olive groves, secluded churches, and holiday farms. Val d'Orcia Valley was declared a human heritage site in 2004 by UNESCO.

The next stop is Pienza (pic n°3), a wonderful village nestled on a hill. It is considered as one of the most beautiful villages in Italy, and it hosts several churches, palaces, and buildings to be visited. Among them, we suggest that you should not miss the Cathedral Santa Maria Assunta (pic n°3) built in 1462, Palazzo Piccolomini (pic n°3), one of the first examples of Renaissance-style architecture, with a magnificent garden, Palazzo Comunale, and Castle of Spedaletto, although the best thing to do here is strolling along the historic alleys.

San Quirico d'Orcia is just 22 kilometers away from Pienza, where you can visit same beautiful churches, such as the Romanesque-style Church of Collegiata (pic n°6), an enchanting garden called Horti Leonini, built in 1581, and the well-preserved walls of the town before driving towards Montalcino, 14 kilometers west of San Quirico.

The town of Montalcino (pic n°4) is overlooked by the fourteenth-century castle, and the skyline is characterized by the Medieval walls, San Martino tower, and San Giovanni tower.

And, of course, you should not leave Montalcino without tasting the worldwide-famous "Brunello di Montalcino", one of the most excellent (and also the most expensive) Italian red wines!
The final stage of the tour is the 12th-century Abbey of Sant'Antimo (pic n°5), located 10 kilometers south of Montalcino, close to the village of Castelnuovo dell'Abate. It is an imposing Romanesque church, where you can visit the Carolingian Chapel, the remains of Sala Capitolare and the cloister.
This beautiful church, where mysticism and art meet, is the end of our tour in this enchanting land of Val d'Orcia.

Some pics of Montepulciano and Val d'Orcia Valley:

Montepulciano (pic n°1); The Cathedral and Palazzo Piccolomini, Pienza (pic n°3); Montalcino (pic n°4); Abbey of Sant'Antimo (pic n°5); Church of Collegiata, San Quirico d'Orcia (pic n°6)
Follow the tour
Map details
Tours by region
Click on a region to see all the tours for that area