BARBARESCO, THE GREAT DRY RED WINE PRODUCED IN PIEDMONT
Barbaresco, this full-bodied red wine is one of the most famous Italian wines produced in the Langhe, Piedmont
Itinerary:
Barbaresco, Neive, Treiso, Alba
Barbaresco, the great dry red wine produced in Piedmont
Barbaresco
is a great, dry, Italian wine, one of the most famous wines produced in Piedmont. Originally its name was "Nebbiolo of Barbaresco" due to the grapes called "Nebbiolo" it is made of. This fine red wine of long history is also one of the most appreciated Italian wines in the world thanks to its unique organoleptic characteristics. In 1980 Barbaresco wine was awarded the DOCG classification.
The local people say about this wine: "Barbaresco is a Barolo that has attended the University"
Where it is produced
Barbaresco can only be produced in the area called "
The Langhe
", located in Piedmont. It covers all the territories starting from the town of Alba (more about:
Alba & the Langhe Wine road
) to the municipalities of Barbaresco, Neive, Treiso and San Rocco Seno d'Elvio. The Langhe, a very ancient area, according to some studies was created around 70 million years ago, was always famous for its vineyards and its beautiful hilly countryside and landscapes. All the stages of Barbaresco wine production (drying of grapes, vinification, aging, and bottling) must be made within this area.
History & how it is made
The cultivation of the Nebbiolo grape is rather ancient. But, the birth of Barbaresco wine as we know it today was in 1894 when Cantina Sociale di Barbaresco was founded. From the Fifties, this wine started to gain a lot of popularity thanks to its unique characteristics, and in 1966 it was among the first wines to receive the DOC appellation, which was followed by DOCG classification 14 years later. Today, the high qualities of this wine are highlighted by many producers, which has transformed the vinification processes of this wine and contributed to the promotion of this brand in Italy and abroad.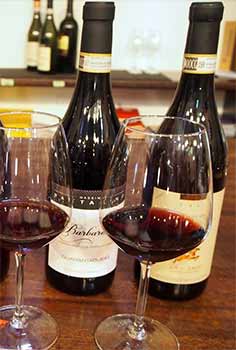 Barbaresco wine is produced 100% from Nebbiolo grapes (like Barolo wine it is often compared with). The Barbaresco wine-making guidelines are very strict: for example, Barbaresco wine must be produced from grapes coming from vineyards located on south-facing slopes of steep hills, but under 550 meters above sea level, (generally between 200 – 400 m a.s.l.), its minimum alcohol content must be 12.50%, and the wine must be aged for at least 26 months, 9 of them in wooden barrels. Barbaresco Riserva Wine must undergo a longer, around a 4-year aging period.

Qualities & how it looks like

Barbaresco is an intense red wine and it can have orange hues as well when it is aged. The aroma is rich, intense and elegant, the spicy flavor is persistent, full bodied and rich in tannins. It has slightly fruity aromas when the wine is young, while they change to violet, licorice, dried flowers and spices when it is aged.
The best way to taste it

As a typical Piedmontese wine, you can best taste it with the famous traditional dishes of this region. It is excellent with truffles from Alba, with intense flavor meats such as stewed, roasted, boiled, or braised meat, or game. Barbaresco wine can also be served with hard cheese.

Experts say the best way to enjoy this wine is 4-8 years after the grape harvest, but of course, it can undergo longer aging.

Main difference between Barbaresco and Barolo wine

Due to the slightly different cultivation area, (even though the grape variety is the same), grapes get a slight "maritime influence", therefore, the Nebbiolo grapes ripe there earlier so they have a shorter maceration time. But, the main difference between Barbaresco and Barolo is the tannin concentration: in Barbaresco wine, it tends to soften faster and that makes even a less aged wine pleasant to drink. Barbaresco is considered to be a more elegant and refined red wine while Barolo is a more robust, austere, rich, and full-bodied wine with high acidity, tannin, and alcohol.

A tour in the Langhe in the production area of Barbaresco wine: Starting and ending points: Alba
Length: km 39

Some pictures of Barbaresco wine and vineyards:
Top
Id: 173
Tour: Barbaresco, the great dry red wine produced in Piedmont
Category: Food & Wine
Published by/Copyright: Touring-Italy.net
Location: Countryside
Region: Piedmont , Italy
Hits: 5078
Tours by region
Click on a region to see all the tours for that area