TUSCANY GRAND TOUR BY THE MOST AMAZING ITALIAN ART CITIES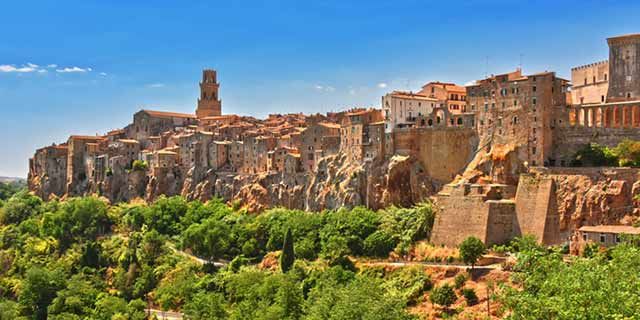 Tuscany Grand Tour starting from Florence, will take you through the charming Medieval Tuscan villages and art cities
Itinerary:
Florence, San Miniato, Certaldo, San Gimignano, Montalcino, Maremma, Montepulciano,
Tuscany Grand Tour by the most amazing Italian Art cities
Tuscany
Grand Tour will lead you through picturesque medieval villages and art cities considered among the most beautiful ones in Italy and on many curvy scenic drives through some passes over the famous Mountain Apennines. This itinerary is starting from Florence and it is an ideal one for a five or six days trip. It is long about 800 kilometers and will allow you to visit many interesting places and charming cities of art. And, of course, you will have the opportunity to taste the famous Tuscan homemade cuisine & excellent Tuscan wines in some of the many restaurants you will find on your way!
So, let's start. Leaving
Florance
, the beautiful Renaissance Italian art city, you will reach first
San Miniato
, a small Medieval pearl with spectacular views, then
Certaldo
, the town where Boccaccio was born, then
Volterra
, an ancient and famous Etruscan city, and last
San Gimignano
pic n°6, the village of 'a hundred of towers'.
Now let's move on towards
Monteriggioni
(pic n°4) which is located on the top of a hill not far from Siena. This Medieval village certainly deserves the appellation of one of the most beautiful villages in Tuscany. Monteriggioni still preserves the 3rd-century defensive walls with the watchtowers where you can enjoy breathtaking views on the hills of the
Chianti
area and on the city of
Siena
, another beautiful art city you should visit. In the Middle Ages, Siena and Florence were rival cities and they used to fight against each other. Today they are 'competitors' only for their charm and beauty since it is really hard to state which one is the most beautiful city!
Few miles away among the Tuscan hills you will find
Montalcino
pic n°5, a small Medieval town with a charming historic core where you can visit the Castle and Palazzo dei Priori. A glass of the legendary "
Brunello di Montalcino Wine
" will make unforgettable your visit here! Moving on from Montalcino you will pass by the "
Etrurian Fortress of Poggio Civitella
" an ancient Etruscan settlement. Have a stop here for a visit.
After passing on the scenic drive road over
Mount Amiata
, you will enter the
Maremma
region. In the area of Mount Amiata, an old extinct volcano, you will breathe the coolness of its woods and enjoy an exciting drive. Do not miss
Terme di Saturnia
pic n°3, the largest natural spa park in Italy characterized by the wonderful Cascade di Mulino, thermal waterfalls called Mulino.
Continuing the journey, you should have four more stops ad visits: Sorano, the Maremma village carved into the rock; - Pitigliano pic n°2, set in a spectacular tufa cliff; - Cetona, a medieval village of Etruscan origin; Pienza with the impressive Palazzo Piccolomini. All of them are beautiful small art cities rich in history. On the border between Val d'Orcia (Orcia Valley) and Val di Chiana, Chiana Valley, rises Montepulciano with a multitude of churches, millenary buildings, history, and arts. Montepulciano is also famous for its delicious "Rosso", an excellent, fine red wine. Don't miss it! Val di Chiana (Chiana Valley) has a stop in Cortona pic n°1, a fortress of ancient Etruscan origins that has perfectly preserved its urban core.

On your way, you will find the city of Arezzo, famous for its traders in antiquity and goldsmith masters. Remember, most of the gold jewelry you can admire in the fabulous shops on
Ponte Vecchio in Florence is produced here and around ... so, it is useful to have a stop and purchase here a precious gift, you could save money!
Shortly after Arezzo, you will enter the Casentino area where you should visit the ancient village of Poppi surrounded by the enchanting green countryside of the Valtiberina, Valley of river Tiber, with a suggestive historic center and a medieval castle.

The tour in Tuscany continues in the Apennines through the scenic drive road of the Consuma Pass that connects the Casentino area with the Valdarno (Valley of river Arno). The long descent after the Consuma Pass will take you back to Florence.

Hope you have enjoyed this beautiful tour visiting many amazing art cities in Tuscany! Just order our Roadbook Package if you like to follow this itinerary.

Some pictures along the Tuscany Grand Tour:

Cortona pic n°1; Pitigliano pic n°2; The Terme di Saturnia the largest natural spa park in Italy pic n°3; Monteriggioni pic n°4; Montalcino pic n°5; San Gimignano pic n°6;
Top
Tours by region
Click on a region to see all the tours for that area