BAROLO, THE KING OF WINES, A GREAT WORLDWIDE FAMOUS RED WINE
Barolo red wine is referred to as the king of wines and the wine of kings, thanks to its unique and excellent qualities
Itinerary:
Barolo, Serralunga d'Alba, Castiglione Falletto, Monforte d'Alba, Diano D'Alba, La Morra, Novello
Barolo, the king of wines, a great worldwide famous red wine
Barolo is one of the most popular and worldwide appreciated wines. It is because of its excellent intense flavor ought to the uniqueness of the grape varieties used, to the beautiful environment they grow and to the strict production methods ... Barolo wine is full of secrets!

Where it is produced

Barolo is produced in the province of Cuneo, in Piedmont. According to a law dating back to 1993, the production area is strictly delimited, and includes the areas around the small Medieval town of Barolo, which the wine takes its name from, and the towns of Serralunga d'Alba, Castiglione Falletto, Monforte d'Alba, Diano D'Alba, La Morra, Roddi, Novello, Verduno, Cherasco and Grinzane Cavour. All of these towns are part of the geographical area called Langhe, one of the most important wine-producing areas of Italy. This area is characterized by hills covered in vineyards, beautiful landscapes and imposing Medieval castles.

History & how it is made

Nebbiolo grape variety has been growing in the area of Langhe for centuries, but Barolo wine was produced first only in the nineteenth century, thanks to Camillo Benso di Cavour, an important Italian politician, and Giulia Colbert Falletti, Marchioness of Barolo who promoted the production of this intense and balanced wine. It is said, even the Italian kings like Charles Albert and his son Victor Emmanuel II were great Barolo wine lovers! Maybe because of that, Barolo is also known as the wine of the kings! Anyway, because of that or not, the Barolo wine is said to be "the wine of the kings" and "the king of the wines"!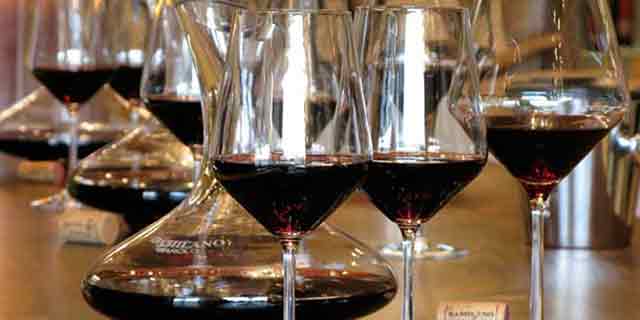 Over the years, different consortia were established in order to protect and promote Barolo and other wines of Langhe, such as Barbaresco and Roero. In 1966, Barolo was awarded the DOC (denomination of protected origin) appellation, which was replaced by the more prestigious DOCG one (denomination of protected and guaranteed origin). This allows Barolo wine to be produced following strict rules and practices.

Barolo wine can only be produced using 100% of Nebbiolo grape variety, and its sub-varieties Michet, Lampia and Rosé. According to the rules, Barolo must age for at least 36 months, 24 of which inside oak or chestnut barrels. When Barolo is aged for 5 years or more, it is enhanced with more intense aromas, and can be labeled as Barolo Riserva. The DOCG appellation regulates many other aspects, such as the type of soil, the vineyard exposure, and the alcohol composition.

Qualities & how it looks like

Barolo is a beautifully structured and balanced wine, and it is characterized by a bright red color, which is enriched by orange hues as it ages. The fruity aroma recalls scents of red fruits, spices and other flavors, such as cinnamon, licorice, pepper, rose, nutmeg, and vanilla. The flavor is intense and pleasantly persistent. All of these qualities make Barolo an elegant wine, with its own specific personality.
The best way to taste it

Barolo wine takes its name from one of the towns where it is produced, and this is not by chance, but because this wine is deeply connected with its producing area. For this reason, Barolo wine perfectly combines with the typical dishes of the Piedmontese region: red roasted or braised meat, game, hard cheeses, truffle-based dishes, as well as paste di 'meliga' (typical biscuits of the region). Then, it is one of the core ingredients of 'Brasato al Barolo', one of the most appreciated dishes of Piedmont. Of course, as it is a great wine, Barolo can also be tasted by itself!

More:
Barolo tour: The scenic wine road from Alba to Barolo in Piedmont

Some pictures of Barolo wine:
Top
Id: 194
Tour: Barolo, the king of wines, a great worldwide famous red wine
Category: Food & Wine
Published by/Copyright: Touring-Italy.net
Location: Countryside
Region: Piedmont , Italy
Hits: 2251
Tours by region
Click on a region to see all the tours for that area