TUSCANY'S SCENIC DRIVES: THE PICTURESQUE ETRUSCAN COAST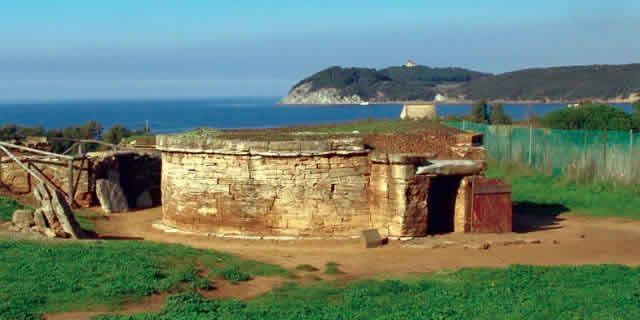 Costa degli Etruschi is one of the most popular scenic drives in Tuscany, thanks to its beaches and archaeological sites
Itinerary:
Etruscan Coast, Necropolis of Baratti, Livorno, Castiglioncello, San Vincenzo, Cecina, Tuscany
Tuscany's scenic drives: the picturesque Etruscan Coast
Costa degli Etruschi (the Etruscan Coast) is the name of a wide area in Tuscany. This area includes many towns in the province of Livorno, both on the coast and in the hinterland. The coastal road is one of the most popular and picturesque scenic drives in Tuscany, stretching for 90 kilometers along the coast that overlooks the Mediterranean Sea, from Livorno down to Piombino. Beautiful white sandy beaches characterize nearly the entire coastal area, except for some locations, such as Baratti (pic n°3) and Castiglioncello, where the red granite cliffs are predominated.

The Etruscan Coast is well equipped for welcoming the thousands of tourists who come here every summer: beach resorts, free beaches, holiday villages, campgrounds, and many facilities contribute to giving tourists everything they need for a perfect seaside holiday.

The main seaside towns are Castiglioncello, Cecina, Rosignano (close to it are located the impressive White Beaches), Donoratico, and San Vincenzo. Most of them boast beautiful, paid, and equipped or free beaches washed by clear water and surrounded by shady pine forests.

Apart from beach life, visitors can enjoy relaxing or walking in nature, thanks to the wide presence of protected areas, woods, botanical gardens, and nature-surrounded paths, all of which are ideal places during the hottest days. In the hinterland, you can discover many lovely Medieval villages preserving still now their ancient charms. Some of them are really worth a visit, such as Suvereto, Bolgheri, Populonia Alta, and Castagneto Carducci.

There is also a beautiful 'Road of Wine', surrounded by vineyards and olive trees, running along this area, so, if you are a wine lover you can take advantage of this once visiting the Etruscan Coast.
Nevertheless, one of the main reasons why people love visiting this area is the presence of the many archeological sites (pic n°2)(pic n°4) (pic n°6) and museums of great interest. In fact, the name given to this coastline is not accidental: this area used to be inhabited by the Etruscan people (starting from the ninth century B.C.), and many archeological remains have been found here.

A not-to-be-missed destination is the Necropolis of Baratti (pic n°2), featuring lots of Etruscan-time tombs and built right in front of the sea, near the village of Populonia (pic n°6). Also, you should visit the Etruscan museums in Piombino, Rosignano, and Cecina, where you will have the opportunity to go in-depth into the history, habits, and lifestyle of these ancient people.

Some pictures of The Etruscan Coast, Tuscany:

The Etruscan Coast (pic n°1); Necropolis of Baratti (pic n°2); Baratti (pic n°3); Archeological sites (pic n°4); View (pic n°5); Populonia (pic n°6)
Top
Id: 59
Tour: Tuscany's scenic drives: the picturesque Etruscan Coast
Category: Country sightseeing tour
Published by/Copyright: Touring-Italy.net
Location: Seaside
Region: Tuscany , Italy
Hits: 8910
Tours by region
Click on a region to see all the tours for that area